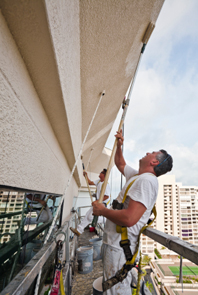 Construction projects utilizing suspended working platforms, fall protection equipment, and other aerial devices benefit greatly by providing a Certified Work Plan prepared by an independent firm.  The primary goal of this important document is to improve workplace safety thereby reducing liability to the general contractor and the building owner.
Relying on the subcontractor who provides the rigging equipment to develop and maintain its own work safety plan may not provide the protection which general contractors and building owners desire.  By providing a detailed work plan from an unbiased party, subcontractors that may wish to improvise their own procedures "on the fly" in an effort to save time and reduce cost, will be held to a standard of safety which protects all parties involved.  Also, the reality of enforcement along with heavy fines levied on general contractors and building owners for safety infractions is becoming more and more prevalent.
HighLine provides Certified Work Plans which instruct workers performing suspended operations for EBM work in a number of ways; specifies allowable procedures, equipment limitations, safety protocols, working hazards, emergency procedures, etc.  Important notes regarding acceptable tie-back anchors, sway stabilization methods, and personnel fall protection are tailored to meet the specific project conditions.  The document also includes user qualifications and is often used as a training guide for general contractors and users of the equipment.  HighLine provides vendor orientation upon delivery of the document to ensure that the user is made aware of all of the requirements of the work plan.
HighLine is also capable of providing design and engineering of custom rigging solutions for temporary suspended equipment.  This includes but is not limited to long reach outriggers, tie-back anchors, custom working platforms, monorail tracks, material hoists, etc.
Please contact us about our Design services and Certified Work Plan documents.