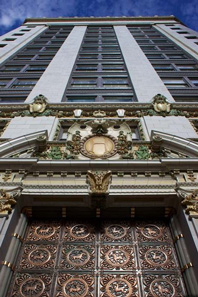 When considering repair, replacement, or modernization of an existing EBM /window cleaning system, Building Owners and Managers are faced with a myriad of challenges.  The variables and unknowns of such a project can be quite daunting, but the benefits of providing a safe and efficient system are immeasurable.  The liability exposure of providing an unsafe working environment to your outside contractors and the cost to maintain outdated equipment are both harsh realities.  By providing a well conceived and properly executed system which meets the unique needs of the building design, our clients can be assured that the beauty of their buildings can be maintained in a manner that is safe and efficient.
The practice of turning over the design of the system to a reputable EBM manufacturer as part of a Design/Build agreement invites a number of problems which negatively affect the process and the end product.  The primary problem is that EBM manufacturers have a tendency to furnish their "standard equipment range" which may nor not provide the most efficient or cost effective solution.   It is vital to consider all possible solutions including custom designs that may offer considerable savings to the building.  Also, despite the best efforts of manufacturers to provide consistent and clear coordination, building owners and managers are often disappointed in this facet of the project.  Such issues can cause significant frustration, but they can be avoided.
By utilizing the services of an independent consultant to develop a cohesive design concept and coordinate with the management team, our clients can be assured these pitfalls are avoided.  We provide custom solutions to address the many challenges found on buildings of all types.  Our goal is to minimize the impact to the building while providing the best possible solutions, and our unique expertise and attention to detail ensures that the final product will not only be safe, but highly efficient.
The completed design package can serve as the basis of a competitive bidding process so that you know you are getting value for your investment.  HighLine also provides construction administration services to ensure the system is implemented properly. Typical project scope may include design of:
Roof Tie-Back Anchors for Controlled Descent Apparatus (CDA a.k.a. Boatswain's Chairs, Rope Descent Systems, RDS, Bosun's Chairs)

Roof Tie-Backs and Horizontal Lifeline (HLL) Systems for Fall Protection

Counterweighted or Tied-Down Outrigger Beam Systems

Standard and Flush Mounted Davit Pedestals

Portable Roof Davit Arms

Powered and Manual Monorail Track and Trolley Systems

Rigging Sleeves, Cornice Hooks, Parapet Clamps, and other miscellaneous rigging

Intermittent Stabilization Anchors (ISA) and other Sway Stabilization Systems

Powered Platforms and Single Man Basket Systems

Building Maintenance Unit (BMU) and Roofcar Systems
Please contact us for further information about our Design services.
A brief outline of a typical project scope is included below:
Project Review

A detailed assessment of the building site and as-build plans (if any) to determine the possible options for EBM procedures and equipment.  A meeting with the client to determine project limitations and discuss EBM code compliance is an important step in this phase.

Testing

If it is determined that utilization of any of the existing EBM components is viable, proof load testing of these components may be necessary to ensure they are structurally sound.  More information about testing requirements can be found here.

Concept Design

Development of a comprehensive design concept which indicates specific locations of various EBM components to safely maintain the project.  A number of viable solutions are provided along with a narrative to describe the pros and cons of each to ensure that the client makes an informed decision about the direction of the EBM design.  Information is delivered to the client on a set of EBM drawings which include roof plans, elevations, sections, details, maximum load values, general notes, and any other pertinent information needed to convey the concept design.

Construction Drawings

Upon receipt of comments from the client, the drawings are further refined to integrate the EBM components into the building.  The goal is to create a safe and cost effective design which considers all of the project conditions and client input.  Includes equipment details, system configuration, drop study, power requirements, water requirements, and landscape/hardscape requirements.  A thorough review of the design document is performed prior to delivery to ensure complete code compliance and proper system functionality.

Engineer of Record (EOR) Review

A licensed professional engineer provides analysis and backup calculations to prove that the building is capable of supporting the loads generated by the EBM equipment.  All final drawings are wet stamped by the Engineer of Record.

Specifications

A written specification which includes contractor qualification requirements, design standards, submittal requirements, EBM equipment requirements, and execution requirements.

Construction Administration

Provides information and assistance to the client during the construction process:

Assist in development of RFP package

Perform bid review and analysis

Provide review of submittals including Shop Drawings

Respond to RFI during construction

Perform progress inspections and reports

Development of Punch List